In today's modern age, businesses often require bespoke systems to exclusively meet their specific needs. Although off-the-shelf software can be cheaper in the short-term, it is unlikely that an organisation will be able to find the perfect system that has all of the features and functionality their business needs to operate at its best. By looking into custom software development, you can ensure that all your particular preferences and requirements are accommodated.
What is custom software development?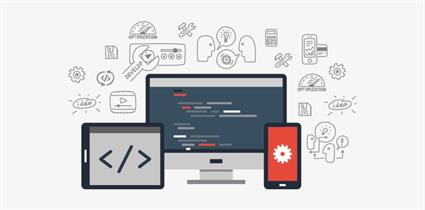 The process of designing a system which is individually developed for a specific business' needs is called custom software development. This service is an excellent investment for organisations, as it has a number of advantages in areas of integration, guaranteed maintenance, and scalability.
Every individual business has its own particular requirements, which means it can be difficult trying to find a product that solves multiple tasks in one. However, by working with a specialist company, such as Xibis, we would work alongside you to understand your objectives in great depth. Your unique specifications would be met by our in-house professionals, who would break these down into actionable requirements. They would design and develop an end product that's truly bespoke to your needs, which is built for the continuous progress and growth of your organisation.
Why is custom software effective for businesses?
Directors and CEOs often come across challenges that seem completely insurmountable to solve. However, by having bespoke software developed, the business would be provided with flexible and adaptable solutions that suit the functionality of the organisation. Unlike off-the-shelf products, custom software can be manipulated according to the changing needs of the organisation.
Custom-built software does not require constant change or development for the accommodation of company needs. No matter whether you are looking to integrate new functionalities for a service or new product, you would have this capability to expand your software's integrations as new tools or as new software becomes available.
How can custom software be used?
When it comes to custom software development, brand new systems can be designed that are completely bespoke to you. For example, custom CRM applications are often created in order to help organisations keep track of their customers, vendors, prospects and referrals.
By having your own CRM system designed, the costs of training staff members would be much less. Unlike an off-the-shelf system, the application would be devised based on the business functions that your staff are already familiar with. Your existing processes would be reflected within this system, complimenting your current workflow. Therefore, your daily operations would run much more efficiently, as the same bespoke CRM system would be used across multiple departments, and can be integrated into other systems to prevent the need to enter the same data into multiple disparate systems.
Custom software development is also fundamental where there is no existing off-the-shelf solution to meet the needs and requirements of the organisation. Custom software is useful in the development of a backend application which would allow disparate systems to communicate and share data. It can act as the glue to bring separate solutions together.
When people think of custom software development, generally their first thought is it will come with a significant cost, this is not the case and custom software development is not as expensive as you might think.
Why should you work with Xibis?
When choosing a software development company, you want to be provided with a comprehensive, well-thought-out contract which helps to ensure all expectations are aligned. The contract should allow both the client and the developer to work collaboratively, with a reasonable timeline for completion so the work can be carried out effectively.
Here at Xibis, we have been offering bespoke development services for more than 20 years. If you are interested in our custom software development services, please feel free to call our customer service team on 0116 272 9990. On the other hand, you can also complete the contact form on our website, where someone will get back to you as soon as possible.