We've been working closely with the Angel Trains Product Technology Team for a few years now on a project which has been evolving ever since. Raw data is automatically collected from the Internet of Things (IoT) such as GPS readings and fuel and coolant sensors and processed using a combination of real time and overnight analysis.
The Product Technology Team continually challenges us to use this data to answer new and tricky real-life questions. It usually starts with them saying "I'm sure there must be a way to...", gets us scratching our heads for a bit, and then we work out how to prove that their instincts were bang on and there was indeed a way!
Want to know which trains are are consistently left idling overnight? How much fuel was wasted whilst idling? No problem - just by monitoring and analysing the fuel level readings, the system identifies and logs idling periods and fuel burn. The potential money savings for Angel Trains customers, the rail operators, are huge.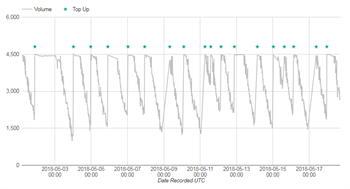 We can even identify when the fuel was topped up and by how much. There are optimal fuel thresholds set for certain points in the day, and an alarm will be raised if a train has less fuel than expected, meaning it might not have enough to complete its scheduled route. Conversely, if a train is always pulling a full tank, it will burn more fuel, so having real-time alarms and data available on fuel reserves and usage has the potential to inform for real financial savings.
Are some trains typically slower than others over the same journey? If so, this could indicate a mechanical issue or increased likelihood of future breakdown.
The Angel Trains Product Technology Team just has to tell the system which journey they want to look at and the system takes care of the rest. Set an expected journey time and see how they compare. it will even log the return trips too. But how? Every night we pull GPS data, match it to the trains in the system, and analyse it to identify whether they've done one of the journeys we're monitoring. If so, we log it so those journey times can be compared and visualised on a graph.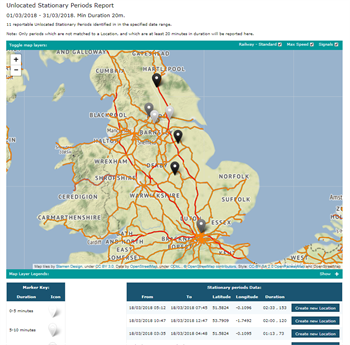 We also use the GPS data to show stationary periods (when a train is not moving) on a map, and cross reference them with known Locations that the Angel Trains Product Technology Team has entered on the system. Now we can send an automated email to the Angel Trains team which highlights long stationary periods in unexpected places. If a train has spent 4 hours overnight in the middle of nowhere when it usually overnights at a Depot, then that potentially indicates a breakdown and warrants further investigation. No more waiting for a breakdown report, Angel Trains can see it directly from the data. They can also cross reference it with other metrics and alarms to get a fuller picture. Was it leaking coolant? If it ran out of fuel, had it missed a top up? Had it been running slower than usual over a daily journey, or burning more fuel?
But these are just a few examples of what it can do. The system analyses multiple correlated metrics from the raw data it collates, and uses them to produce many different alarms, reports, charts and interactive maps. Together, they constitute a bespoke data analysis solution tailored exactly to the Product Technology Team's specifications. Put simply, it turns a lot of unrelated raw data into meaningful information.
Graham, Product Technology Manager at Angel Trains said: "The Xibis team has been very flexible – responding to my requirements and being very flexible in order to provide exactly what I need."
"I am confident that, through the Xibis platform, I can obtain the information I need quickly and without the need to spend hours processing data. It works seamlessly with our existing monitoring system and produces accurate, timely and highly useful information."
We're already looking forward to our next meeting with Angel Trains, because we absolutely love these challenges and we can always rely on the Product Technology Team to throw us a curve ball! Bring it on!
---