This programming framework developed by Microsoft can be used to build a multitude of different kinds of applications for desktop, mobile and more across the internet. The first version of the .NET framework was released in 2002 and has since developed into limitless possibilities and can build many different types of applications.
Why is .NET development important for businesses?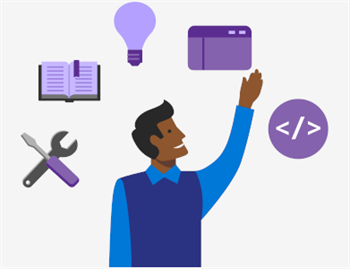 .NET development is a very versatile framework which gives developers access to customisable web solutions, including a mix of different programming languages. By allowing developers to use multiple programming languages, .NET makes creating and managing apps much easier. It is an excellent framework tool for creative and flexible web and app solutions, accelerating the design process which helps businesses achieve their goals.
Compared to other systems, .NET software development provides you with a range of different resources that other systems don't. It is lightweight but still powerful enough to deliver apps with agile features and unique functionalities.
.NET is regularly and extensively used in the creation of such software like CRMs and CMSs, supply management applications, allowing businesses to streamline their processes. It can even be used to improve your communication as an organisation by developing flexible applications that use multi-tiered software architecture.
ASP.NET is the third most popular web development framework and the most popular Microsoft Windows-based web development framework. A huge amount of existing software has been developed for .NET, both by Microsoft, third parties and community open source projects so regardless of your project requirements help exists to provide a running start.
Key components of the .NET development framework
.NET is used to develop thousands of web applications and is specifically designed for encryption, security, and database access. The inbuilt security mechanism helps in both validation and verification of applications, providing a better experience for the client and end-user.
As we have already mentioned, this development framework is incredibly versatile and has virtually no limitations. The .NET framework is not just limited to Windows development and can be made compatible with Windows, Linux, and even Mac OS. .NET Core has a fully open source code which guarantees that a wide engineering community can continuously contribute to its growth and expansion.
The modular design of the framework allows for including all the dependencies you need as a business. Multiple .NET Core versions can be running side-by-side on the same machine to cover different projects and seamlessly perform deployment tasks, as the configuration info is already built into the system.
How can Xibis help you?
As a business, we have worked collaboratively with a number of different clients to devise bespoke solutions that are built from the ground up. Our .NET development team can provide you with a scalable environment that allows for redesigning ongoing applications in order to match the growing needs of the business.
By outsourcing your custom software development to our team, you can focus on the main goals of your business and day-to-day tasks. No matter whether you are seeking to make your operations more efficient or boost your conversion rates, we can ensure that your applications meet the precise needs of your company.
To find out some more information regarding the .NET based solutions and custom software development services we deliver to our customers, you are more than welcome to contact a member of our team.