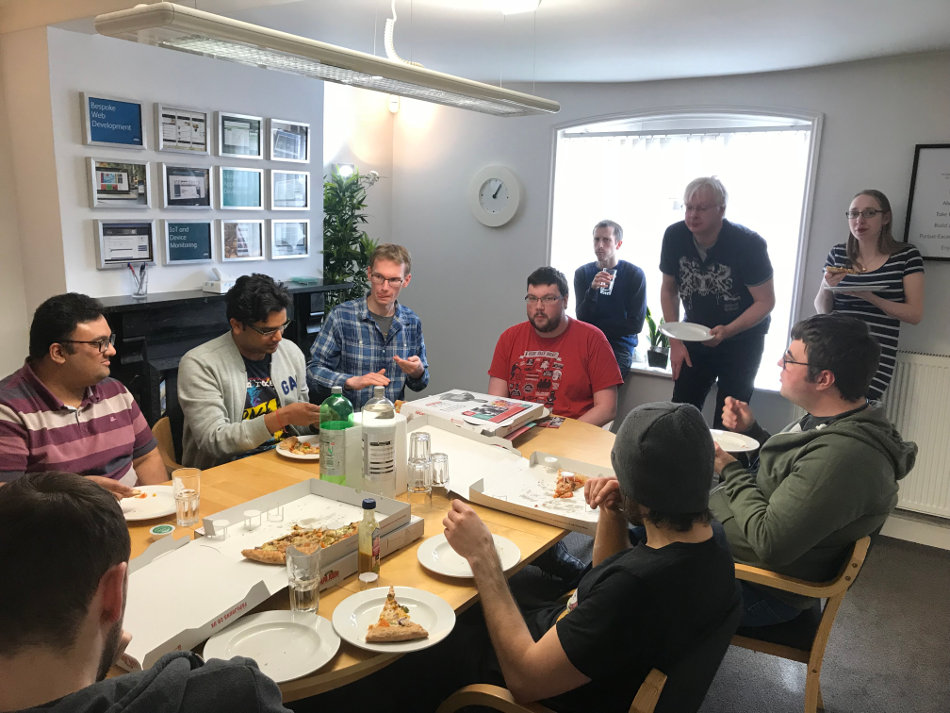 Gareth Birds is one of Xibis' most senior web developers and has been a lead developer on a number of applications Xibis have developed over the last 10 years. He has an eye for detail, and a real drive for quality. He is never satisfied until he has achieved perfection in his work.
His actual 10 year anniversary was back in February, but he was on paternity leave. His lovely wife Catherine gave birth to twins. The proud father returned back to work recently, and it gave us the opportunity to say a big thank you for all the hard work over the last 10 years.
The 10 year club now has 6 members, and includes Darren and Mark (Web and App Developers), Technical Director Ian Newson, Jon Simpson (Project Manager) and myself (Neil Morjaria - Managing Director). Chhaya will also be joining the club later in the year.
Gareth has worked on many projects over the years, and has always produced high quality solutions. Some key ones being for Angel Trains, Nationwide Fire Sprinklers, Barix, Realwire (Lissted), International Lift Equipment, Wella, and many others.
Heis not about just getting a solution finished, his primary focus is to get it finished right. He understands the success of any application is dependent on its users, and if it is not usable the battle is already lost. His focus on usability is a key factor in all his and Xibis's successes.
Gareth, here is to another 10 years.
Comments from clients and Xibis team members that have worked with Gareth:
Joan Parrilla, VP Engineering, BARIX:
"I would like to thank Gareth for his contribution in the development of one of the cloud platforms that is serving our clients worldwide. Since the beginning, you gave us a solid ground to walk and we were confident to leave that part of the development in your hands. Congratulations for your 10 years at Xibis, we at BARIX wish you to continue to develop successfully both personal and professionally for many years to come."
Chhaya Patel, Senior Test Analyst, Xibis:
"When Gareth's projects come into QA we know they're going to be well presented and challenging when it comes to bug finding. Gareth's always a pleasure to work with. His sense of humour and his knowledge make even the most complex projects fun to test."
Jon Simpson, Project Manager, Xibis:
"Great chap and highly knowledgeable and dependable colleague."