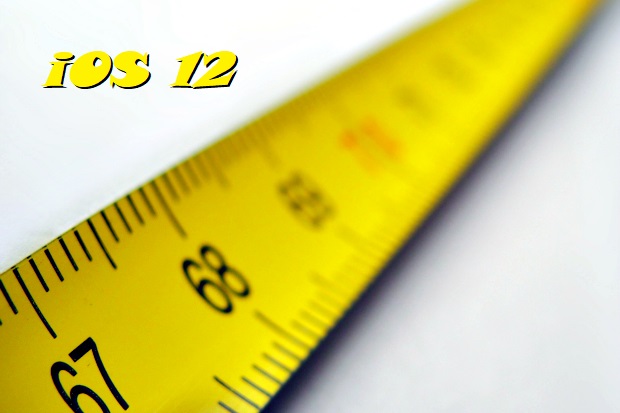 How Long is a Piece of String? Does iOS 12 know?
With the release of iOS 12 comes ARKit2, and more specifically, the new Measure app, but how does it fare in different lighting conditions with objects small to large? We decided to get a bit sciencey and push the Measure app to its limits, using a Barbie mug and a man who believed he was tall.
Ingredients List
iPhone 8
Chair to compensate for small man syndrome
Barbie mug
Recycling bin (because we are good!)
A picture frame (displaying why we're pretty awesome)
Disillusioned tall human
The process
It was simple, we measured stuff with the measure app, then measured the same things with a tape measure, which I'm surprised we have as all of us have fantastic dexterity on a keyboard, but in the most part lack the appropriate DIY muscles.
We measured the above things in different conditions; small, large, awkward angles, sensible angles indoors, outdoors, with artificial and natural light respectively. We measured simple shapes, and an awkwardly shaped human. We attempted to measure a cat but it refused to comply with the sciences.
Disclaimer
The app itself does a fair bit of the work for you by trying to identify edges and angles. We sometimes got lucky and the app identified an edge on which we placed a pin, to then manually draw a line, and hopefully being assisted in marking a second pin to the opposite edge in order to get a measurement. The app doesn't understand whether the angle of the measurement is right, as you can imagine, having a skewwhiff line in place increases the measurement taken. It's the same kind of fault you can have with a physical tape measure, although you can feel the difference when you're taking a measurement. We think that if the map could map a grid based on orientation and adjusting with accelerometers, then this could really help.
Furthermore, we're using an iPhone 8, which we are aware isn't going to perform quite as well as the iPhone 10.
THE RESULTS
Barbie Mug
We started small and outdoors to see how accurate the app is in natural lighting, and with small objects where we'd expect a much higher degree of accuracy.
The screenshot shows the measure app in action; however, the screenshot didn't capture the actual measurement for some reason.
We can see in the next image a photo of the iPhone 8 where the app believed the mug to be 10cm in height.
Did the app get it right? No.
The tape measure found the mug to be 9.6cm tall, so it begs the question; is the Measure App rounding figures up?
If so, we could have already run into issues, but more tests must be carried out!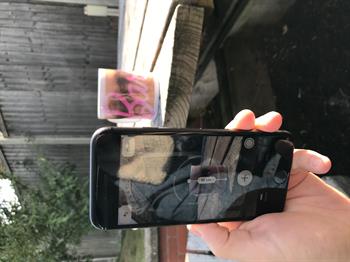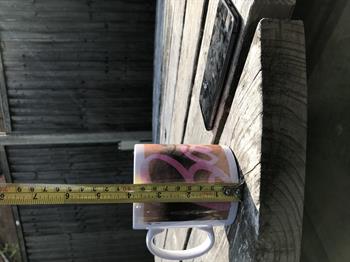 The Recycling Bin
This test was carried out at an awkward angle in somewhat gloomy artificial light. We wondered if an accurate measurement could be taken at roughly a 45-degree angle to the right, whilst looking downward.
From the screenshot taken on the iPhone 8, you can see the actual measurement this time. 49cm, another round number. The app struggled here to lock on to an edge, but did a good job of identifying the angle of the front surface of the bin, only changing its mind a few times.
Did the app get it right? No.
Unsurprisingly given the awkwardness of the angle, the lighting, and the awkwardness of the design of the bin, the app didn't hit the mark. The bottom edge of the bin doesn't actually sit on the floor as it's raised up, underneath, in the middle, making this object even more awkward to measure, like the limp handshake of measuring challenges.
Either way, the app gave us 49cm, whereas the tape measure gave us 55.4cm, which is out by a whopping 6.4cm.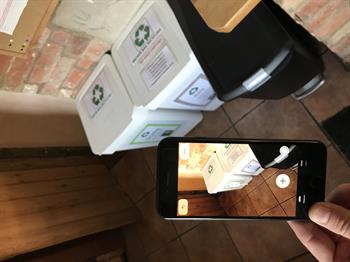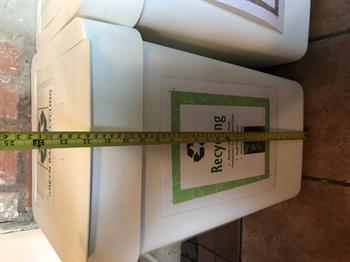 A Picture Frame (showing our process as a software house in case you're interested)
Things got a bit spicier during this test. Given that this is a blind test to see what we can discover about the app, we were pleasantly surprised to see the app pick up shapes really well. No manual intervention required, just boom, have a rectangle. Once you add it, you then get the measurements.
We were impressed by how quickly this happened, so much so that we thought we had broken the app at first. We were given the measurements 70cm x 51cm, which is even more impressive as we didn't realise we could plot shapes to get measurements of X by Y.
Did the app get it right? No.
Another swing and a miss as the manual measurements come in at 72.5cm x 52.5cm. We had higher hopes with this test after such a good start, but the difference in measurement is quite considerable.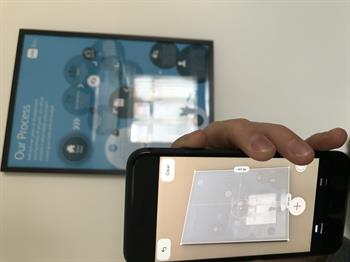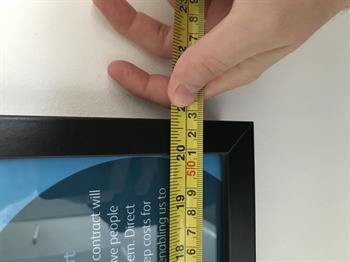 Mr G (human scratching bridge of nose, not giving the finger)
We knew this wasn't going to work out, but thought 'what the height, let's do it'.
As you can see for yourself the results are pretty conclusive. Mr G is indeed tall to the tune of 1.8m from his centre of gravity at floor level to his forehead, and he does in fact have an 11cm finger.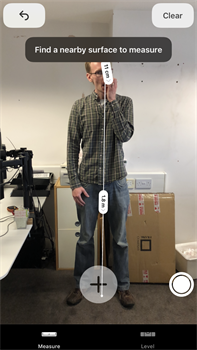 Conclusion
If you're after estimations of size on very angular objects, specifically smaller objects, and you're not fussed about measurements smaller than centimetres, then this app could help. Would I use it to put some new blinds up? Not unless I wanted my walls to resemble swiss cheese with an abundance of holes. However, I would use it in cases where I don't have a tape measure, and a rough measurement is alright. There are the cases when you simply must measure something rather large whilst on your own, where again, a rough estimation might be ideal rather than getting creative against the old health & safety guidelines.
Ultimately, we're headed in a good direction, and we believe that with better hardware, and improving AR, this kind of app would be nailed in the not so distant future (no pun intended).