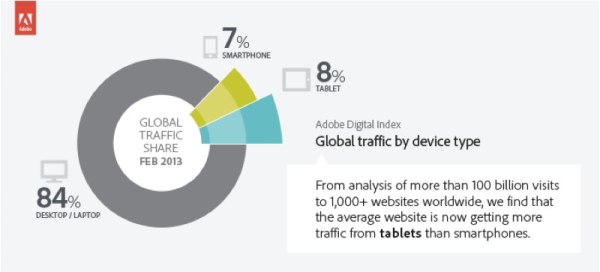 As an increasing amount of web traffic is due to users of smartphones and tablets, it is important to consider what their experience is when browsing your website.
Users could be driven away by a site that only caters to desktop users; are you comfortable only keeping 84% happy?
Despite the above graphic from Adobe showing three distinct groups, when trying to cater to tablet and smartphone browsers you quickly find that the size of the screen varies wildly from one device to the next. Tablets like the iPad Mini are blurring the boundaries between smartphone and tablet, to the extent that all we are left with is a dazzling array of different screen sizes to accommodate.
We used Screenfly's list of the most common screen sizes to put together a quick graphic to show just how widely these differ, and also how the lines between the three categories are being blurred.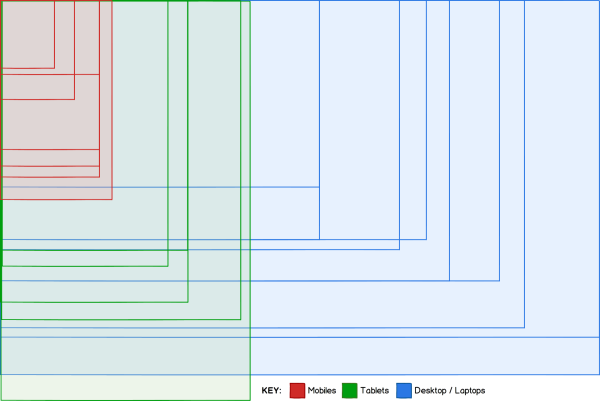 Adaptive Sites
For this reason, instead of having a desktop site and a separate mobile site, adaptive sites are becoming more popular. An adaptive site adjusts and scales down the content according to the size of the user's screen. This leaves you with only one site to manage, and is likely to be more cost effective than having two separate interfaces.
With the new Good Garage Scheme site for Forte, Xibis have created an adaptive site that looks great on desktops, tablets and smartphones alike:

Visit the site at www.goodgaragescheme.com and change the size of your browser window to see it adapt. You can see that the menu bar changes from one that can be hovered over with the mouse, to a more touch-friendly menu when the site is on a tablet size or below.
Separate Mobile Sites
There are some cases where adaptive is not the best option for your site though. For example, Xibis have built a separate mobile site for Interflora. In this case the user experience is streamlined for mobile, simply offering the ability to send flowers to someone while out and about. It doesn't offer all the features of the desktop site; there is no basket to select multiple items for example.
The huge benefit to the customer is the simplicity of the process, and having to wait for fewer pages and less content to load while they may be on a poor internet connection.