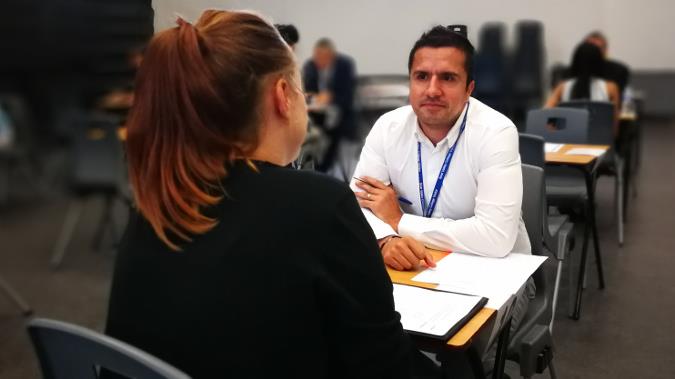 Xibis joined Leicestershire Cares earlier in the year, and recently Fiona and I (Neil Morjaria) took part in the Interview Technique Project which provides the opportunity for GCSE pupils to take part in a mock interview, which could help them progress from secondary school on to their next steps in life - whether that's in work, apprenticeships, or college.
Fiona attended Beauchamp College, while I went to Soar Valley College to carry out the mock interviews.
It was great to see many other organisations, both big and small, taking part and giving their precious time to help and provide guidance to the kids, which hopefully will go some way to aid them in their future.
There was quite a spectrum of pupils in terms of confidence, communication, and knowing what they wanted to do in the future. Some pupils needed a little bit of encouragement to open up and relax, and others blew me away with their confidence and ability to communicate at a level well in advance of their age.
What surprised me the most was the number of pupils that knew what they wanted to do with their future and had already planned out their career and educational path to achieve their goals. I didn't have a clue when I was 15, which was back in the mid-'90s, along with many of my peers at that time. How things have changed.
We both found being part of this project incredibly rewarding, and a fantastic opportunity to give something back to the local community. We are both looking forward to doing this again in the upcoming academic year, and have booked in a few dates already.
---
Leicestershire Cares brings businesses and communities together for the benefit of all, through employee volunteering. They provide volunteering opportunities for companies looking to get involved with communities in Leicestershire & Rutland.