Couch Perry Wilkes Solar Panel Calculator App
Estimate whether your roof position and angle would be suitable for solar panels with this handy app developed by Xibis
Leading marketing and design agency, Rizk McCay, needed a dependable development partner with a proven track record in mobile app building. Xibis was therefore a natural choice.
Their client, sustainable engineering consultants CouchPerryWilkes, required a useful app that could be provided free of charge to improve recognition of their brand.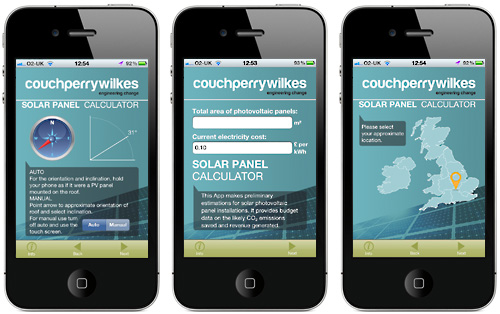 This was achieved by developing a fun to use mobile app that could evaluate the suitability of a roof position and angle for installing solar panels. In a few simple steps, the information required can be input manually if at your desk or automatically when on location.
90%
Rating on the App Store
"The Couch Perry Wilkes Solar Panel Calculator is our first mobile app and Xibis helped us enormously to transform our idea into reality. They understood our needs and gave us great advice about how to make our app fun to use whilst keeping the calculation side robust. Their superb functionality combined with a great design from our creative team at RizkMcCay give us an 'on-brand' marketing tool that is both user-friendly and technically proficient."
In the field, users can hold the phone as if resting on the roof in question and the iPhone's in built accelerometer and compass calculate inclination and orientation automatically, and display it on screen. Location in the UK is also taken care of, using the iPhone's GPS location function.
"Quick and easy: Gives results in seconds! Nice work!"
Photograph of a solar panel
"Fantastic idea - looks great and easy to use."
Get in touch
Xibis Limited, 67 London Road,
Oadby, Leicester LE2 5DN